Inteum Stories
Success stories about real people. How they have shaped Inteum and how Inteum has influenced them.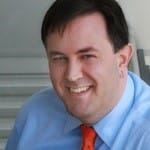 Ragan Robertson
Technology Transfer Principal at University of California, Los Angeles, Technology Development Group
Dr. Ragan Robertson is currently involved in the marketing, patenting, and licensing of UCLA's extensive life science technology portfolio. Previously, he worked at Columbia Technology Ventures (CTV), the technology transfer office for Columbia University in New York City. He received his doctorate from Columbia University in Biological Sciences.
Experience with Inteum company and product
My first encounter with Inteum took place when I was working at Columbia Technology Ventures at Columbia University in New York. I conducted a market study of different IP portfolio management software products and that was when I first learned about Inteum Company and the scope of the software. The role of technology transfer offices has expanded a lot over the years. It is no longer only focused on patent prosecution and maintenance but has now broadened to a wider range of industry engagement activities such as creating startup companies, and developing and managing relationships beyond licensing agreements. In my opinion, because of the wide range of functions that the Inteum software offers, it is the best fit for today's technology transfer offices to keep track of all the activities in one central depository.
The implementation of the Agreement Portal at UCLA
I had my most recent interaction with Inteum at UCLA. In 2014, the Technology Development Group at UCLA was facing a very specific problem: the system they were using to collect and process Material Transfer Agreements (MTAs) was old, outdated and would soon lose support. The group processes a thousand MTAs a year so this system is critical to their operation. Being part of the evaluation team, I felt that the design of Inteum's Agreement Portal and the overall quality of Inteum's product stood out among the competition.
One of my top priorities as the Technology Transfer Principal is to ensure that the faculty members have the best customer experience. When they submit the MTAs online, it is important that the Portal interface remains familiar and convenient for them during the transition from the old system to Inteum. The standard Agreement Portal, right out of the box, needed a fair amount of customization to fit into our workflow. My colleague Karla worked with Ken at Inteum on a number of customizations in the user interface and how the portal interacts with the main Inteum software. Gladly, Ken made it all happen.
Office-wide adoption of Inteum
Across the many different groups in our office there are 11 systems being used for various purposes. The lack of integration among systems has created some challenges. Our patent group was putting information into one software application but had to enter the data again into the main University of California system. This double entry of data created not only an unnecessary burden on the team but also a potential for human error and a mismatch of the data across both systems. After the patent group adopted Inteum, Dave Waddell at Inteum helped us integrate Inteum with the UC system. As a result, our patent bar log is better synced with our databases.
An integrated data warehouse is essential to my vision of a modern technology transfer office. The potential benefits of having all of the data in one place and the ability to search and report from it is huge. Before I can see this benefit, a lot has to happen. We are performing an office-wide overhaul to clean our data, streamline processes and update our standard operating procedures.
Inteum's CEO Rob Sloman and the entire team have been extremely helpful in the process. Their level of responsiveness and dedication is really exceptional compared to other software companies. The expertise they've displayed is also very reassuring. My team and I benefit a lot from their past experience with other institutions who have been in similar situations and I have confidence in the success of this big project.